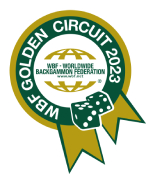 29th March / 2nd April, 2023
Hotel Splendid | Budva  –   Montenegro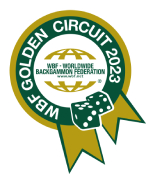 The 5th MERIT OPEN MONTENEGRO GRAND PRIX INTERNATIONAL BACKGAMMON CHAMPIONSHIP (added prize money 20.000 €) is scheduled at the Hotel Splendid Conference & SPA Resort in Budva (Montenegro) from 29th March to 2nd April, 2023 (registrations Tuesday  28th and Wednesday 29th March, Main Tournament from 29th March to Sunday 2nd Aprile, 2023).
After a three-year break, the other MERIT tournament returns, the one in Budva. Budva is a jewel of the Montenegrin coast: the old city is fascinating with its Venetian architecture, the restaurants are all of excellent quality and nearby there are some beauties to visit, such as the peninsula of Sveti Stefan (historical name Santo Stefano) or the towns of Kotor (historical name Cattaro) and Perast (historical name Perasto). The beginning of spring returns to being MERIT TIME: the last tournament (2019)  brought together 320 players. And this year we hope to repeat that excellent result.
This event is also the result of the MERIT-WBF partnership and is organized and directed by Marco Fornasir and Arda Findikoglu under the aegis of WBF Worldwide Backgammon Federation. The tournament offers an added prize of € 20,000 offered by sponsor MERIT INTERNATIONAL – Casino Royal Splendid and features five days dedicated to Backgammon, with 10 different activities.
Furthermore, the MERIT MONTENEGRO GRAND PRIX offers the possibility of purchasing an Unlimited Daily Drink Package and Lunch and Dinner vauchers, as well as a series of discountsfor food & beverage in the tournament area and for the well-equipped hotel SPA.
Hope you can join us for this exciting event in Montenegro!
Don't miss this great event!
YIORGOS KLEITSAS
An international tournament is underway in Greece these days.
This tournament also celebrates our friend Yiorgos Kleitsas from Athens who passed away on Wednesday 16th October 2019. Yiorgos was a Backgammon champion, a Bridge champion and had a passion for dance. He was a member of the Greek MENSA and has been a WBF supporter since 1997, later he became an honorary member and WBF agent for Greece.
In Backgammon he won a lot, by the way: he was # 53 of the Giants List; he won the Greek Championship in 2008; won the European Doubles Championship in Velden in partnership with Manos Mastorakis in 2010 in Velden (Austria), was a finalist twice, paired with Platon Tserliagkos, in Monte-Carlo in the Doubles Consultation World Championship, in 2018 and 2019; he won in 2008 in Monte-Carlo, in team with Christos Groutsos and Alexandros Kolonias, the Fortis Cup in 2008.
He has participated in many WBF tournaments in Velden (Austria), Nice (France), Menton (France), Baden bei Wien (Austria), Istanbul (Turkey), Kyrenia / Girne (North Cyprus), Milan (Italy) and Budva (Montenegro).
He was always been one of the best in the Mochy's Quizzes, which is why Mochy dedicated the seminar scheduled at the MERIT OPEN in November 2019 to him.
Yiorgos has always been much loved and well-liked throughout the whole Backgammon world, and he has bequeathed us three volumes, written with Christos Groutsos, entitled Backgammon – modern Backgammon.
In the pic Yiorgos Kleitsas (left) against Dimitrios Manganas (right) before the final in Porto Carras (Greece – 2013). In the middle the referee Marco Fornasir.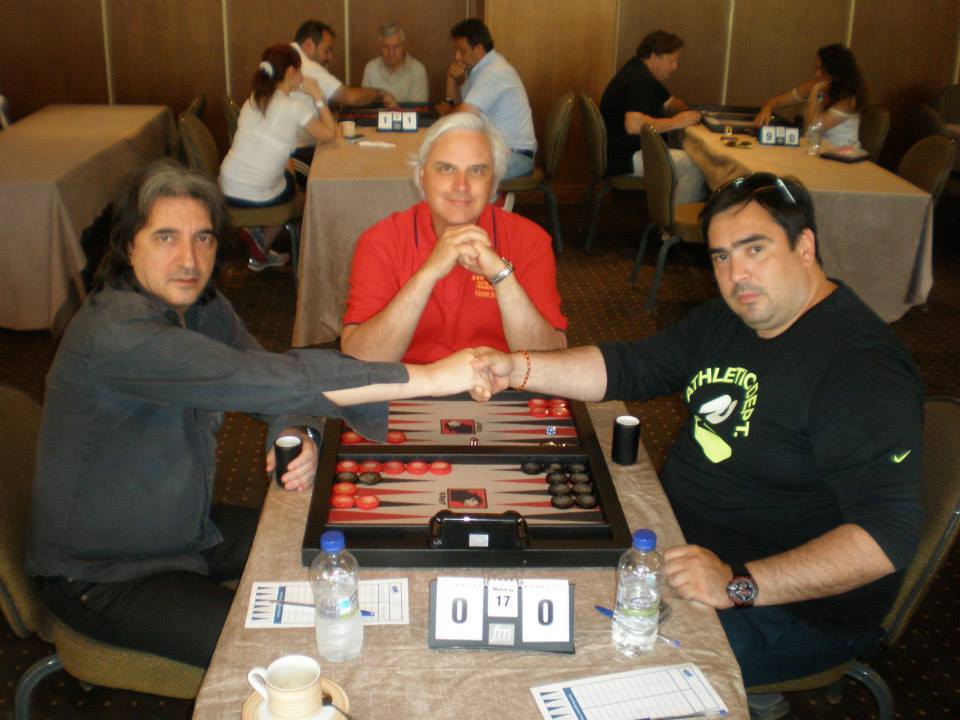 PRIVATE WBF TOURNAMENTS
WBF organizes private tournaments on high profile structures on request.
These tournaments are organized at the request of gentlemen who do not like to participate in public tournaments and are invitational tournaments.
Those who wish to participate and believe they have the right profile for this type of event can request information via email at info@wbf.net.