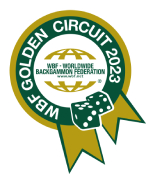 5th / 8th October, 2023
Casino Innsbruck | Innsbruck – Austria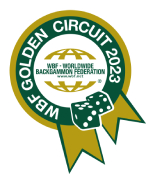 XXXIII EUROPEAN BACKGAMMON CHAMPIONSHIP
The XXXIII EUROPEAN BACKGAMMON CHAMPIONSHIP is scheduled at the Casino Innsbruck (Austria) from 5th to 8th October 2023 (main tournament on 6th, 7th and 8th October 2023).
It will be four very intense days, with many different tournaments available to players.
This is the third edition that takes place at the Casino of Innsbruck, the capital of Tyrol (Austria). Do not miss the welcome cocktail with Tyrolean dinner which is our way of thanking the intervening players.
Another feature of the Championship is The best play the best divided into two categories: Master and Intermediate. This tournament is free, participation is reserved for players who have won the European Championship and have the WBF Golden Card 2023. The winners will have the right to participate for free, in their category,Hope you can join us for this exciting event in Austria!
Don't miss this great event!
Don't forget that pre-registered players (by email or What'sApp) will have a free entry into the One Point Match tournament.
10th MERIT Open International Backgammon Championship
MERIT PARK HOTEL & CASINO and WBF Worldwide Backgammon Federation are proud to announce that the 10th MERIT OPEN INTERNATIONAL BACKGAMMON CHAMPIONSHIP is confirmed and shall take place place on 7th – 12th November, 2023.
You can find the flyer here. Below, we would like to share some details about the new concept of the project.
1.ADDED MONEY PRIZE: We are celebrating the 10th anniversary of the event by increasing the added money prize to 30.000 €.
2.CATEGORIES & INSCRIPTION FEES: "Warm-Up" is replaced with "Seniors". All other categories and formats will remain the same & fees of previous years will be applied without any increment.
3.MERIT PARK ACCOMMODATION RATES: In 2023, there is a major increase in accommodation rates of all first segment "all inclusive" concept casino hotel facilities in Northern Cyprus, with the governmental aim of converting the northern coast of the island into a luxury destination. Our host Merit Park Hotel adapted to this new approach as well by renovating its rooms and opening some additional bar & recreational facilities inside. Special daily accommodation rates are 265 Euros for single, 350 Euros for double & 475 Euros for triple accommodations, with ultra all inclusive concept, including full time food and beverage services. You can find the details about hotel concept here.
4.ALTERNATIVE ACCOMMODATION OPTIONS: As we expect this major increase in Merit Park Hotel accommodation rates may result with an increased need for alternative hotel options, we have made our deals with 6 other facilities, which are obviously more basic compared to our event hotel, at the same time offering comfortable rooms for cheaper rates. 4 of them are not in walking distance, and we will be offering free shuttle service every event day at noon and midnight between those hotels and Merit Park Hotel. Detailed info about alternative accommodation options can be found here.
5.FOOD & BEVERAGE IN MERIT PARK: Our guests staying in Merit Park Hotel will be offered full time unlimited food and beverage services. Those who stay in alternative hotels can join unlimited food concept for 40€ per day (hotel restaurant will be operating full time between 12:00-21:30 each event day) & unlimited alcoholic drinks concept for 25€ per day. In case of joining both concepts at once, it is 60€ per day.
Inside the playing hall, all event guests, no matter where they stay, will be offered unlimited complimentary non-alcoholic drinks & a buffet of rich coffee break concept including snacks and soup during event hours.
6.AIRPORT TRANSFERS: Our organization will be offering paid airport transfer service from 2 major airports on the island, for 30€ one way from/to Nicosia Ercan Airport (45 minutes drive – 60 € round trip) & 45€ from/to Larnaca Airport (80 minutes drive – 90 € round trip).
Being the largest scale backgammon gathering of annual calendar for years, with its top quality service in hotel premises and the event with an average of 50 national flags being represented each year, we hope to see you at Merit Open once again, in our 10th anniversary.
Marco Fornasir & Arda Findikoglu
Directors of the 10th MERIT OPEN International Backgammon Championship
WBF GOLDEN CIRCUIT
2023
After the ISTANBUL OPEN 2023 (won by Turkish Burak Hakki) and the 5th MERIT OPEN Montenegro Grand Prix (won by the German Guido Weidner), the WBF GOLDEN CIRCUIT 2023resumes in:
Innsbruck from 4th to 8th October, 2023 with the XXXIII EUROPEAN BACKGAMMON CHAMPIONSHIP MEMORIAL ALBERTO da PRA;
10th MERIT OPEN – INTERNATIONAL BACKGAMMON CHAMPIONSHIP from 6th to 12th November, 2023;
the traditional XXIV AUSTRIAN BACKGAMMON OPEN & AUSTRIAN DOUBLES CHAMPIONSHIP | valid for the 34th Italian Backgammon Championship, from 29th November to 3rd December, 2023.
PRIVATE WBF TOURNAMENTS
WBF organizes private tournaments on high profile structures on request.
These tournaments are organized at the request of gentlemen who do not like to participate in public tournaments and are invitational tournaments.
Those who wish to participate and believe they have the right profile for this type of event can request information via email at info@wbf.net.